Choosing the best company swag can be difficult! With so many options, many people don't know where to start. In this article we break down company swag, as well as provide ideas for your next purchase.
We will talk about:
What is company swag?
How to choose company swag?
Common types of company swag
Amazing company swag ideas
What is company swag?
Company swag is often defined as products, branded with a logo, given away at no cost and used for promotional purposes.
But what does it really mean?
In today's age, companies are always looking for new ways to stand out. Companies will use corporate swag to create a better company culture, showcase their booth at a trade show, or thank their most loyal customers. Further, companies are getting creative with everything from the types of products they giveaway, to the designs on those products.
Related: What is onboarding? What do new employees expect?
Common types of company swag
As mentioned at the beginning, there are many types of company branded swag. Here we highlight some of the main areas companies focus on.
Custom company swag boxes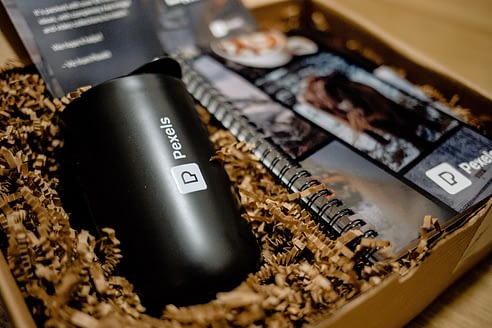 Best swag for: New hire welcome gifts, employee celebrations, customer gifts
Custom swag boxes are the perfect way to make someone feel appreciated. Moreover, many companies use swag boxes or swag packs to help promote their company culture. Whether you are welcoming someone new to the team or thanking your biggest customer, custom swag packs are the perfect way to connect with others.
Related: 6 Most Important Onboarding Swag Items
Themed gift packages
Best swag for: Virtual event swag, customer gifts, holiday gifts
Similar to custom swag boxes, themed gift packs help companies connect with their employees and customers. Want everyone at your virtual event to wake up with coffee and a new mug? Looking to make all your employees feel loved this Valentines Day? If so, themed gift packages are perfect for you.
Event giveaways
Best swag for: In-person conferences, expos, virtual events
Event swag or event giveaways are the perfect way to help your company stand out. Moreover, good event swag may be the reason someone remembers your company. Event swag traditionally focused on items provided at a booth, but with the rise of virtual events, companies are thinking outside-the-box.
How to choose the best company swag?
Now that you know everything there is to know about corporate swag, let's talk about how to choose the best options for you! Below we have highlighted our customer's top considerations when buying swag.
Related: 5 Great Company Swag Ideas for 2022
Related: 5 Reasons to Get a Company Swag
Corporate swag needs
First, it is important to understand why your company is buying swag.
Are you looking to enhance the employee welcome experience? Do you want to impress at the next trade show? Looking to thank your newest customer?
OR
Are you looking to boost employee retention? Do you want to land the next customer? Looking to retain your best client?
Understanding the "why" behind your company swag purchase is key to getting the right products at the right time!
Swag recipients
At the end of the day, it is important to provide cool swag that people will love and use! Therefore, knowing your audience is key to selecting the best items. For example, are you buying trending swag for the Women In Technology Conference or your all company holiday party?
Better understanding your audience will help you pick the best items for every occasion!
Company swag budget
Let's face it, there is always a budget. However, maximizing that budget is key to making the best experience for your recipients!
When thinking about swag, quality over quantity is important. Therefore, we recommend getting few, high quality products over many, cheaper products.
In addition to quality, personalization is key. For example, custom cards are inexpensive, but add a personal touch that will make your employeef swag box extra special.
Amazing company swag ideas
After you have thought about your swag needs, the next step is picking the best products. Here we have highlighted a few corporate swag ideas to help inspire you!
Related: Looking for an easy way to distribute your swag? Checkout the Museema Swag Store offering!
Company swag – drinkware
Best swag for: Pretty much everything!
Quality drinkware is the perfect swag gift for any occasion! Now days, employees and customers value quality over quantity. Further, they like gifts that are used regularly and improve their daily lives. Premium drinkware is the perfect way to remind people of your brand every day.
MiiR 20oz Widemouth Bottle
Why customers love this product: First, this product is great for both hot and cold beverages, making it perfect for everyone. The widemouth lid makes filling with ice easy and cleaning is a breeze. Finally, the MiiR Vacuum Insulation Technology keeps your beverage at the perfect temperature for hours.
MiiR 16oz Travel Tumbler
Why customers love this product: The MiiR Travel Tumbler is absolutely perfect for that on the go lifestyle! Do your employees or customers travel on a regular basis? This tumbler is great for the long commute, plane flight, or dog walk.
MiiR Camp Cup
Why customers love this product: The MiiR Camp Cup is the most flexible drinkware option! Whether you are camping in the mountains or stuck in the office, this is perfect for you. The MiiR Vacuum Insulation Technology helps you enjoy that cup of coffee, hot chocolate, or tea for just a bit longer!
MiiR Wine Set
Why customers love this product: The MiiR Wine Set is the perfect gift for celebration! The vacuum insulated wine bottle and tumblers allow you to enjoy a glass anywhere, at any time. This is the ideal gift to reward the team after a long project or make an impression on that new customer.
MiiR Can Chillers
Why customers love this product: The MiiR Can Chillers are great for establishing that "chill" company culture! These can chillers are the perfect takeaway gift for the next company happy hour. There is no better way to commemorate your team's effort than with a nice cold one.
MiiR 64oz Growler
Why customers love this product: The MiiR Growler is the perfect gift to make an impression! Let's be real, how awesome would you feel receiving this super unique gift from your company or vendor? Plus, this growler will keep your beer cold for 24+ hours!
Company swag – apparel
Best swag for: New hire swag, team events, conferences
Custom apparel is the classic way to promote your brand with products everyone loves! With the rise in work from home culture, having that comfy sweatshirt or awesome t-shirt is even more important.
Extra Soft Sweatshirt
Why customers love this product: The extra soft Cotton Heritage Sweatshirt is the item no one will want to take off. This ultra comfortable sweatshirt is perfect for a day at the office or a night on the couch!
Extra Soft T-shirt
Why customers love this product: The extra soft Triblend T-shirt is a must have in any new hire swag package. Let's face it, everyone wants a t-shirt from their company on the first day of work. Plus, they want it to be comfortable. This ultra soft t-shirt will makes a great first impression!
Classic Beanie
Why customers love this product: The Classic Beanie is a great way to keep warm, while sporting the company brand. Plus, who doesn't look cool in a beanie!
Baseball Cap
Why customers love this product: The Baseball Cap is another great way to highlight your brand. Further, this hat fits perfectly in a swag package or on its own.
Work from home swag
The work from home culture has exploded over the last two years. Therefore, companies are redesigning their swag packages to meet the changing landscape.
Best swag for: New hire swag, conferences
Moleskine Notebook
Why customers love this product: Providing a high quality notebook like the Moleskine Notebook is ideal for promoting productivity.
Indoor Planter
Why customers love this product: The Indoor Planter is the perfect thing to make your package more unique. The easy to grow plants are ideal for the office or kitchen, serving as a reminder of how awesome your company is!
Therapy Dough
Why customers love this product: No better way to relieve stress at work than with the calming scent of this Therapy Dough. An upgrade from the traditional stress ball, this therapy dough will help your new employees feel more relaxed.
Company swag – travel
Traveling can be one of the greatest pleasures in life. With custom travel swag, you can play a part in your employees experience. Whether it is the commute to the office or a hike in the woods, travel swag is always a great gift.
Best swag for: Employee recognition, customer gifts
North Face Crestone Backpack
Why customers love this product: This premium North Face backpack is perfect for the trial or the train! The compact size is big enough to hold the office essentials without weighing you down.
Organic Cotton Tote
Why customers love this product: The organic cotton Eco Tote is perfect for grabbing the gym essentials or making a quick trip to the grocery store. Even better, this product is a great fit for almost any swag box or customer care package.
Company swag – add-on items
The add-on items are products that can be to any swag box or themed package. These products help enhance the gift and make it feel more complete. For example, you may want to add hot chocolate to your winter holiday package for that extra special touch!
Best swag for: Swag boxes, themed packages
Blanket
Why customers love this product: A comfy fleece blanket is a great fit for most new hire packages. Our customers love the sense of comfort and belonging that is provided by these extra soft blankets.
Custom Card
Why customers love this product: Custom cards are essential for making a swag box or customer gift feel more meaningful.